We rapidly move organizations to higher levels of performance by reconnecting everyone's work, and issues around work, to their real sense of purpose. Organizational alignment grows when individuals' aspirations and values meet and support the objectives of their organization.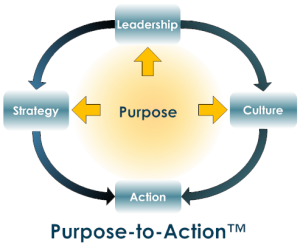 The simple step of putting meaning clearly into the forefront of what people do is what stimulates new, powerful action. It immediately shifts individual, team and leader engagement toward what really matters.
We reach alignment by focusing on fundamental dynamics between the leader and the team that affect their common purpose. We introduce  easy to use tools so everyone can speak the same language of performance, of initiative and problem solving.
The process of allowing individuals to connect to and share with others what they care about is what opens the potential for results that could not be accomplished beforehand:
Teams start managing themselves better; in short order they are able to anticipate and sort through performance challenges, as well as design and implement new solutions.
There is less need for senior management to intervene in the details of their work. Leaders soon foster more productive coordination across teams because they can communicate a clearer sense of purpose that is now better connected to organizational strategy, to the way people work best, and to how to resolve conflicts.
These two factors enable the organization to operate at greater achievement levels. Performance can be better sustained because everyone now understands clearly their purpose, strategy, culture, the way work gets done, and the role of leadership. Leaders and teams now can rapidly determine performance gaps and agree on solutions that are coherent, i.e. solutions that make sense, and work together toward the same end goal.